FVM GLOBAL SPOTLIGHTS DYLAN RAMSEY
Dylan Ramsey: Not Just An Actor, A Man Of Purpose
With 200,000 actors seeking work in Los Angeles, one had better be industrious, resilient, upbeat, and, for sure, talented. He is not just upbeat he doesn't let the rejections that sometimes come with the profession affect him. Dylan Ramsey is very much grounded and he is also downright hilarious. His charming personality is an asset as he can relate to anyone in the world. All of these traits characterize actor Ramsey, who is one of a few of the 200,000 who HAS found work, not without considerable effort on his part and is a member of SAG.
Born in Prague to a Jewish mother and an Egyptian Muslim father, raised in Toronto, educated in New York at the American Academy of Dramatic Arts, Dylan is a master of dialects as diverse as Middle Eastern and Cockney and has been described as a walking melting pot of characters for stage and screen. Assuming roles as varied as his background, he has made his mark with his iconoclastic compelling charactershadings in performances ranging from the relentless torturous special forces soldier, Rashid Al-Sabi, on FOX's 24:Legacy to a wise-cracking vulnerable male cross-dressing prostitute, with a sensitivity that gives life to the role, Ginger, in HBO's Donny and Ginger. You actually feel the pain of the character.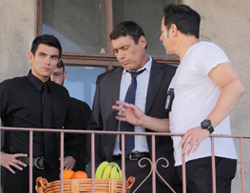 Ramsey also successfully guest stars as Keck, a frighteningly ruthless hit man for a Serbian crime family in Transporter, a new primetime series set to debut on Cinemax next year; for this role, he trained in fight choreography and performed all his own stunts. "Dylan is known to completely get immersed in his roles," says one of his coaches. "He works from the outside in to get into his roles." He will also be seen as Jack, a young assassin in the feature film Assassins, to be released next year.
This past summer the versatile and busy actor was featured inSwamp Shark, an original movie for television, and Bread, a play.
In Swamp Shark, which began its run June 25th on the SYFY channel, Ramsey brings aAssassin: Dylan Ramsey, Steven Bauer, Hector Echavarriafrat boy's merrily to light even though the character is destined for doom. He does this with such aplomb that goes beyond the pale. The movie incorporates action and human drama into a modern morality play which pits humans against nature; distinct personality types and, of course, the shark all play out their cards and meet their fates. Ramsey, bravely, did his own stunts for this role, which proved almost as dangerous as actually being swallowed by a shark. Swamp Shark was a record-breaking hit, gobbling up more than 2.2 million viewers during its premiere, swamping its opposition and propelling SYFY into the #3 spot among the networks for that evening.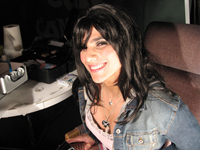 In Bread, Mr. Ramsey plays ALI who is not just a Muslim baker in Iraq, but a character that has conquered his loneliness and fear. The skilled Ramsey brings this deafly home as he convinces his friend Ike, a Jewish baker in Dylan Ramsey as GingerAmerica (Tom Killam) as each faces the precariousness of life in his own society and undergoes challenges which test the strength of the human spirit. Ike resides in Pennsylvania and has cancer while Ali, Dylan's character has to live through the bombings in Iraqi, uncertain if he will die in one of the attacks. Ike has to deal with his angry, estranged son (Jason Fracaro) and feels desperately alone and without support as he undergoes chemotherapy. The threat of death is ever present for Ali as well, yet Dylan conveys the calm that he finds through his heart and his religion, his work, and his hope that his sister (Cat Lidstone) is safe with her husband in Pakistan. We can see Ramsey find the courage to keep his hope and spiritually inspit of hopelessness. It becomes infectious and provides hope for his counterpart in America: if he can survive the war in Iraq then surely the chemotherapy can be endured and the cancer can be cheated. In moving, well-played scenes, Ramsey's sister re-unites with him in Iraq and in America the son returns to the father. This is a play about second chances. It also explores the fear, pain, anger, and finally hope endemic in life as the characters fight their way to the light at the end of the tunnel. A Muslim and a Jew, each walking delicately upon the razor blade of life, unite to help each other as they face the universal human condition.
Bread received the Best Acting/Play award at "The Writers Speak Festival" in Los Angeles in July of 2011, based on voting by the audience. It was unanimous that Bread won the right to be turned into a movie.